Home

/

Ramadan_2016_Iftar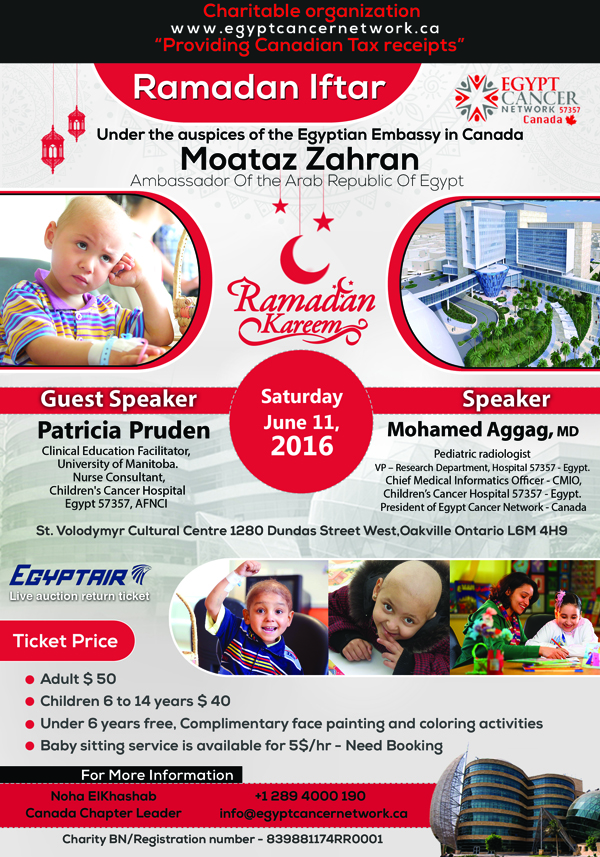 Egypt Cancer Network (ECN) is a Canada based non-profit organization that focuses on raising funds to provide free state of the art cancer treatment to Middle Eastern children in Egypt.
On behalf of Egypt Cancer Network and 57357 Canada , We would like to invite you for a fundraising dinner on Saturday, June 11th, 2016 at St Volodymyr Cultural Center1280 Dundas Street West. Oakville, Ontario L6M 4H9
Tickets for this event are $50.00 each for Adult and $40.00
Each for Children. Only donations made at this event will be tax-deductible and will be donated to Children's Cancer Hospital of Egypt 57357.
Babysitting will be available for $5.00/hr Need Booking per child for children 6 and under at the venue.
The event will commence at 8.00 pm with a registration,  followed by Iftar and the main event.
We would like to remind you to consider extending your generosity and Zakat to the children of 57357 during the month of Ramadan For more information,
To Purchases your Ticket,  Please Call Noha Elkhashab At 289-400-0190 to Reserve your tickets.
Please Contact Noha Elkhashab  +1 289 4000 190  info@egyptcancernetwork.ca